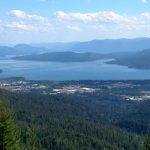 Lot's of folks who relocate to the North Idaho region are going into retirement and what a wonderful place for it! If you are still going to be in the workplace here's a few bright thoughts to consider.
Consider that your commute might be on a long scenic Highway along Lake Pend Oreille and not a congested freeway, which you might be accustomed to in the bigger cities. You might even experience driving over Lake Pend Oreille next time you go into work after moving here. If you live south of Sandpoint and you commute into Sandpoint it's ok to be excited, you'll be coming into Sandpoint over Lake Pend Oreille on the infamous two-mile long bridge, affectionately know as "The Long Bridge". You see Sandpoint has a very unique entrance from the south into this majestic little town, it's an entrance that very few cities share. It's almost like a boat ride in your car, it really does change your mindset and you're overall mental conditioning before going into a town that is intent on making you feel welcome. The town caters to pedestrians as best it can in a motorized world; we've even got bump out corner curves to favor pedestrians crossing the streets. Because Sandpoint caters to pedestrians, you'll find that parking downtown is a bit tight but again that's because we're catering to the pedestrians. It will require you to slow down a little bit to find parking, but once you ditch the car you'll appreciate how "walking friendly" Sandpoint is. It's a super friendly tourist town with lots to see and to do. Sandpoint is an area where as you're going to work you might see a moose, a deer, or a majestic eagle flying along to welcoming you to the new day. So just remember when you do get to work, after you've taken the step to relocate, that yes, that was real, you drove by a lake, you drove over a lake, you drove into a very welcoming friendly town and you going to do it again. So go ahead and smile, count your blessings and don't forget just because you work here doesn't mean you can't enjoy it too. What to do in this area will be covered in another story.
Although Sandpoint is a bit out of the way, being so far north, there are fairly close resources for such things that life throws our way. We are pretty close to the Spokane International Airport. There are world-class medical facilities in Coeur d'Alene. I will say that when you do find yourself in these bigger cities, Coeur d'Alene and Spokane, you will probably feel very fortunate that you can come back home to the Sandpoint region of North Idaho.
The real beauty of the Sandpoint North Idaho region is in the seasons themselves. The seasons are very different and change abruptly and acutely. The colors and the temperatures with the overall feeling of fall coming soon will be a great testament to this. It is a great time to get out and enjoy this beautiful majestic area. The summers are relatively short, going from Memorial Day to Labor Day is a pretty clear start and finish for the Sandpoint North Idaho Area. Coming into fall is absolutely gorgeous, the temperatures drop a little bit making a few people a little happier, the air starts to get brisk and the colors of fall with amazing views when deciduous trees start to drop their foliage you can see-through land that you haven't seen before giving you a different perspective of the area. Landowners start cleaning up the fall debris, with slash pile burns that remind you winter is coming.
Winter is the longest majestic North Idaho season of the year. Winter preparations begin and a feeling of anxiousness for the first snow arises in us all. It's one of those things that you really don't have any choice but to prepare for a long, hard, cold dark winter- I know it sounds horrible- but then you hope for a pleasant light beautiful white winter.
It is pretty magical when you see the first snow it, brings on a lot of different characteristics and behaviors in the area. I like to call the first snow the first panic, seems no matter how long you live here the minute we get the first flakes in the air, it brings about a bit of panic for some people. It affects how some drive, they think they're just not prepared yet because, oh Lord, here's the snow! Its actually pretty amusing- but you can relax. The first snow is beautiful and it melts before it even hits the ground, it's the changing atmosphere where the rain turns to snow and then back to rain when it hits the ground. It is however a message's from Mother Nature that she's coming and she does sometimes tend to stay longer than normal. There really is no telling what kind of winter that it is going to be. There have been, in the last 20 years what you might call brutal Winters with temps reaching 20 below for a week. Seemed like it was never going to stop. You'd clear your driveway only to find out that it's full of snow again right after you're done. You definitely want to make sure you have your firewood stocked up and ready to go but we'll talk about firewood in another article.
Welcome to the Sandpoint North Idaho Region!